April 1-2018–The River activities year began peacefully with Easter Sunday. We had several groups come out for rafting…then we had
SNOW!    followed by a few days of canoeing, kayaking and rafting before it turned COLD–45 degree high plus flooding at 10 ft for 4 days.
Then the river quieted down before a 6 ft flood for 2 days. So April ended with 6 Flood days, 1 snow and 5 cold.
May started off with the sun shining and folks coming out to really have fun on the River in Spring time. By May 19-the river went to 9 ft and flooded for 6 days. But back on the River for Memorial Day weekend and the fun continued. So May ended with 6 flood days.
The river is between the opening in the tree line. June 3rd at 15 ft at the Bridge.
June began with  the River at 15 ft and flooded for 7 days.  Back in by June 8th, then back off by June 11 with  6 ft 6″ and 3 flood days. Great rafting, canoeing and tubing for the next week or so. Then June 22–River at 7 ft by the afternoon and flooded for 4 days. Tubing season really kicked in with lots of folks enjoying the higher water tubing.  Finished June with 14 flood days.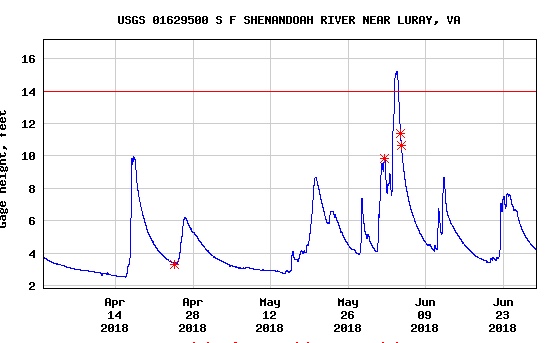 July exploded with everyone taking advantage of Summer on the River! Above the rocks! no flood days! Great water levels above the rocks!
August continued for 2 days then River at 10 ft ad flooded for 3 days. The rest of August was dancing with the rain drops but no more flood waters. Ended with 5 flood days.
September began with nice late Summer weather but by Sept 10th rain moved in and the river jumped to 7 ft and flooded for 3 days along with cool weather. By the 16th, starting back up to 18 ft with the rains from Florence and flooded for 6 days. It began to go back down (5.5 ft) before the next rains which pushed it to 11 ft by  Sept 25th , then to 13 ft. and kept it up all week–flooded 23 days for Sept.
We took several school groups to Lake Arrowhead  (Town of Luray) so they got their canoeing and kayaking done!
October was up and down with several days over 7 ft. at the beginning and middle  of the month. Then 45 degrees on the weekend…ended the month with 70 degrees and river at 3.3 ft. with  8 days too high & several days at 45 degrees.
 2018 season–We were kept off the river with water levels over 5.5 ft for 62 days in 2018.  A more normal year would have had 4 to 6 days too high. Our total season from April 1 to Nov 3 began with days of cold and snow and flooding and ended with flooding and cold in October but a few nice days the first week of Nov. Hopefully that trends well for 2019!
May the year 2019 be kinder to you and to us!
Thank you to all who came or tried to came on the river with us this year. See you in 2019…

The Staff of Shenandoah River Outfitters, Camp OutBack and our River Cabins.